Meet The Agents
Greatness comes in many shades, ours comes in PLATINUM!
Over 200 years of combined experience our REALTORS® are dedicated, self-motivated, friendly and sincerely care for their clients! All of our REALTORS® strive to create a memorable experience with each transaction. They are knowledgeable in their field and are continuously educating themselves for the betterment of our clients within our community. We are a TEAM, working together!
Our agents are well versed in Residential, Commercial, Farm & Ranch, Vacant Land, Multi-Family, New-Construction, and much more! No matter the type of transaction you are involved in, our REALTORS® are ready to work for YOU!
In Search of the Perfect Property? Try our easy to use FAST property search!
Curious about what's happening in your neighborhood? You can create a custom market report to see what's active, under contract, and sold in your neighborhood!
Considering selling or refinancing your home? Get an INSTANT property valuation now!
today to find out how we can be of assistance to you!
Ana "Anita" Moon
Owner/REALTOR®
956-330-5287
anitamoon3@gmail.com
www.anitamoonrealestate.com
www.anitamoonrealtor.com

I graduated from Texas Tech University in 1990. I am fluent in Spanish and enjoy working with a wide spectrum of clients. I have been involved in many organizations across South Texas for over 20 years. Prior to real estate I was in the hotel industry as well as the legal field. I believe that my clients deserve personal attention and each transaction is important to each individuals need. Current hobbies of mine include spending time with my family, traveling, cooking and hunting.
Jonathan Lindley
Owner/ Broker
956.929.1583
jonathan@lindley.realtor
www.jlindleyrealestate.com

I have been in the real estate industry since the fall of 2005. I have experience in residential, commercial, multi-unit, farm & ranch, and vacant lot sales as well as rentals. I've helped first time home buyers, first time sellers, and investors.
Joan Massie
Associate Broker
956.227.3629
themassieteam@gmail.com
www.joanmassie.remax.com
I began working in Real Estate 30 years ago. I have received many awards from RE/MAX including RE/MAX Hall of Fame. I serve the Rio Grande Valley, from Rio Grande City to South Padre Island. I belong to the Greater McAllen Association, Harlingen Board of Realtors, Brownsville Board of Realtors, and South Padre Island Board of Realtors. I'm also a member of the Chamber of Commerce. My extra time is spent with church activities, family and special time with grandchildren.
Randy Klassen, REALTOR®
956-821-4075
jrcsts26@aol.com
Barbara Moffatt, REALTOR®
956-605-1987
barbmfftt@aol.com
www.bjmoffatt.remax.com

I am originally from Chicago. Been living in the Rio Grande Valley for the last 35+ years. I enjoy spending time with family, fishing, gardening, scuba diving, gardening, get together, and helping people out. I have been in the Real Estate Industry for 25+ years and possess a wealth of information in regards to the area!
Victoria De La Fuente, REALTOR®
956-212-0292
vicdelafuente1@gmail.com
www.rgvhomes.info
Norma Cardenas, REALTOR®
956-279-1700
nycardenas@rgv.rr.com
www.normacardenas.remax.co

m
Born and raised in Edinburg, I graduated from UT Pan Am with a Bachelor of Business Administration degree. I taught business courses at PSJA High School for eight years, retired after 20 years in healthcare administration, and became a REALTOR six years ago. I have always been very active in my community and am so grateful to have had the opportunity to witness the Valley develop into what it is today. I am fluent in Spanish, and sincerely enjoy enjoy meeting people and helping them with their real estate needs. I love reading, baking bread, and physical fitness, especially swimming and yoga.
Barbara Cavazos, Broker Associate
956-605-7875
bacavazos12@gmail.com
www.barbaracavazos.remax.c

om

My real estate career started during the late 1970's as a job that would become a lifetime career. My interest in real estate was due my husband being a CUSTOM HOME Builder. I was licensed in 1978 and in 1980 became a licensed Real Estate Broker.

I speak Spanish and have been able to service our Spanish speaking clients from our local area as well as those from Mexico. I have many years of experience and have served in our Real Estate Board as a Board Director and Officer, serving as President of The Greater McAllen Association of Realtors. I have also served in another boards related in the housing industry as well as in our county with the Hidalgo County Appraisal Review Board. My interest in real estate has been a strong commitment to those I serve and help in accomplishing their investment in real estate.
Francisco Javier Rivas, REALTOR®
956.789.8464
fjavierivas@yahoo.com
John Rivera, REALTOR®
956.451.1563
jriveramd@yahoo.com
Olga Rivera, REALTOR®
956.624.9690
olgarivera02@yahoo.com
Nick Smith, REALTOR®
956.279.4199
rgvcutco@gmail.com
Luciano Martinez, REALTOR®
monicaguerra.realestate@gmail.com
Anthony Espinoza, REALTOR®
howellrealestatelistings@gmail.com
Greg Villarreal, REALTOR®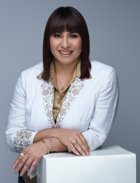 Diana Martinez, REALTOR®
956.456.6103
dianamliving@gmail.com
With 5 years of entrepreneur experience, 8 years in banking, and 12 years in the manufacturing industry, Diana knows a thing or two about customer service. Building a solid foundation with clients and customers through professionalism, attention to detail and a commitment to always put their needs first is her main goal as a RE/MAX agent. She believes exceptional service builds trust. Her caring nature and can-do attitude will help guide her clients through one of their biggest investments of their lives.
Diana's favorite quote: "Nothing will work unless you do" – Maya Angelou
Crystal Quintanilla, REALTOR®
I have spent close to a decade as a teacher and educator, and I carry my patience and attention to detail into my career as an agent. I provide my clients with top notch service and strive to guide them through the home buying or selling experience, as well as keep them informed throughout the entire process. I am fun, loving and energetic; I will get you excited about real estate. I will work hard to find out your needs and wants in order to help you find your new home or market your current property. I love being part of the process and watching my clients achieve their goals.